My name is Claire Prouvost, I am a French artist from the south-west of France and I have been living and working in Dublin for the past 8 years.
My work is colourful, playful and inspired by some components of the French Modern Art movement. I love to represent people and their daily interactions, to create colourful artworks that will brighten up and bring joy to any medium. I have quite a multi-disciplinary practice, working digitally on the Ipad for most commissions to painting large scale murals or on canvas in my studio. I have worked on many projects worldwide and have seen my work take many different shapes, from packaging, to clothing, books, shoes and about everything in between. I have been painting murals for about 5 years now, and love to challenge myself to scale things up, and bring my work to the public space.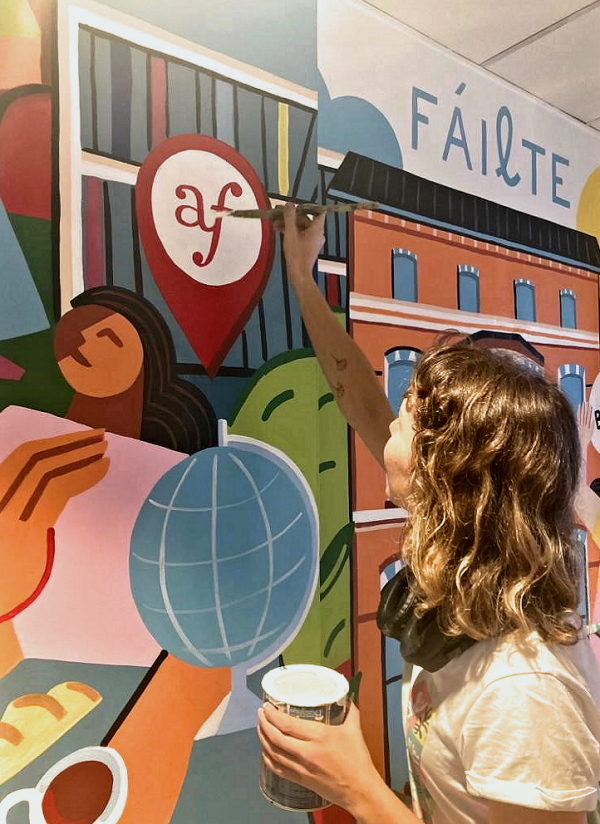 It's such an amazing project to have worked on, because it really sums up my life in Ireland as a French expat'. After many years abroad, it is fantastic to find a place where you can meet like minded people from the same culture in a foreign environment. It felt very natural and relevant, and it is with an obvious yes(!) that I took this project on. After a meeting summing up the Alliance's mission , we decided to design the main piece in the lobby to highlight the building as a place where French culture can radiate and meet Irish culture. With such a prominent and beautiful building at the heart of the city, it was important to showcase the activities going on in the AF, such as cultural events, the library, the French classes, and the café, as a place where people meet and learn. I think the mural is just a reflection of that and people will be able to identify and understand its mission.
It was great to see how many people come and go, have an interest in registering for classes or learning more about future events or passing by to borrow a book. It is amazing to see the diversity in backgrounds, nationalities and ages that come through the doors to engage with the program for a wide range of reasons. In today's world, it is more important than ever to have places like this where you can gather, socialise and learn, coming and going as you please. People were really engaged with the progress of the painting, from the first outlines to the finished piece. The first reaction was to be pleased about a splash of colour in a place most wouldn't pay too much attention too. The design features a lot of different details and things going on, making people take a second look every time they pass by, perhaps spotting a different element. I really like to make the viewer look at a different area each time and I am very happy to know it will greet many people for the next few years, bringing colours and joy to the lobby, showcasing the AF's pride of place.